Onion Cultivation :

Our organisation has encouraged in the field of agriculture being introduced cash crop such as onion conventional and traditional crops, which needs less water and takes less time for harvest. Some of the major advantages of this programme are to give cent percent protection to standing crops to solve the conflict among the farmers relating to determination of land area and to facilitate for equal distribution or government facilities meant for the farmers. in this regard Prateeksha organised training programme in Chanabeda of Saliha GP and distributed Onion seeds in subsidised cost.
Sunflower Cultivation: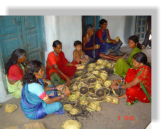 Riverbed Cultivation :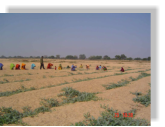 Prateeksha organised training programme on Riverbed vegitable cultivation in Palsabhadar village of Budhipali GP and crops like water melon, cucumber and all other vegetables in the river sand cultivation has been well trained by the local agricultural experts. A documentary videography has been taken by O-Tv personnels for the successful activities taken up by our SHGs.
Substain Agriculture :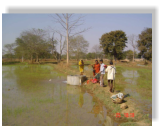 PRATEEKSHA again took steps to train people in the modern methods of agricultural practice. In the reporting period the organization held Training camps in different villages such as Silda, Tanwat, Deewanmunda, Amsena, Parkod and Boirbhadi GP to train the farmer on scientific way of farming. In the face of paddy cultivation being un remunerative, we urged the farmers to take up vegetable farming and mixed cropping under scheme of SGSY & OSFDC.