Vocation Course: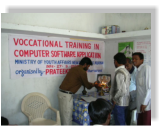 To keep up with the changing times and needs of the young student PRATEEKSHA took steps to provide quality computer education to the poor and needy students who other wise could not have afforded the luxury of computer education in private computer institutes. A programme from Ministry of sports and Youth affairs with NYK Nuapada, have selected our NGO to conduct a vocational training programme of computer software application. In the reporting period 30 students belonging to SC, ST, OBC & BPL and women were imparted training on basic computer education for the subjects of MS Office, MS Excel, MS PowerPoint, Computer Fundamental and Internet application also Desk Top Publishing training at no cost of them. We are continuing the programme this year also without any external assistance.
Computer Training: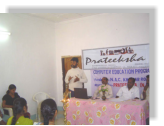 PRATEEKSHA has completed a Vocational Computer Literacy Training Center for BPL unemployment girls and boys in Khariar Road NAC last year out of own financial resources. In this center 30 trainees are being imparted training that have been able to earn their livelihood by self or job- employment. Computer Fundamentals, Microsoft Word, Excel, PowerPoint, Internet Access and Data Entry are the main topics in the training, which is in demand in all sectors now a day. During the year with report, 30 trainees successfully completed their training with duration of 6 months to enable the trainees to acquire through knowledge in the trade. Certificate was been provided for the trainees by District Collector, Nuapada on January 30 i.e. NAC Day.
Trysem Training:
Keeping in the mind the needs of the unemployed youth of the society, the organisation undertook steps to provide vocational training in TV/Mobile repairing in a near by the agency, M/s B.R Production, C/o Prateeksha NGO at ward no. 3 of Khariar Road. During the reporting period 30 educated unemployed BPL youth were provided training at the training center. The trainees were drawn from rural areas of Nuapada Block and also from Khariar Road. After the successful training most of them were absorbed in many workshops and others opened their own units.