R. C. CENTERS:

There are an enormous number of children Drop-out of school in Orissa today. Children are out of school for a variety of reasons - to do with physical and access One of the most complex reasons, however, which denies children there right to education is shrinking livelihoods in many parts of the country, caused by persistent drought and environment degradation, large numbers of poor rural families are forced to migrate out of their village for several months every year in search of work merely to survive. Children also accompany their parents, drop out of school, and are forced into hard labour at work sites. Slowly they too fall into this vicious annual cycle just as their parents. Seasonal migration is thus manifesting as an inter generations phenomena.
Some sector which attract migrant labour are brick making, salt manufacture, sugar cane harvesting, stone quarrying construction, fisheries, plantations and are rice mills. In their drive for profit, maximisation employers are reaching out for cheap labour in the most backward pockets of the country, especially tribal areas. Agriculture also attracts a lot of migrant labour for sowing harvest and transplantation operations. The migrant labour force is largely invisible as migration sites and is located in remote areas away form habitation and mainstream public view. Industrial migrations take place for 6-8 months every year. They start in the post monsoon months and end before the next monsoons shorter durations of 4-8 week. Several times year migrant populations are overwhelmingly form the SC ST and OBC categories. They comprise mainly the landless and land poor who have hardly any other assets, skills or education.
Most people look for a good address for that makes one somebody. An address implies belonging and at least a right to entitlements even if these were denied in practice. Slums and irregular shanty settlements are often neglected; but since their residents render some local service and are potential voters, they get provided for in howsoever limited a measure.
This is not true of vagrants and street children, even pavement dwellers, who lack an address. They miss out on schooling and BPL ration cards and do not find their names on the voters list. They are marginalised for lack of a fixed address and are vaguely some others' responsibility.
Worst of all are those that migrate seasonally as a coping mechanism in times of drought or crop failure when they must travel long distances in search of work, either on their own or in work gangs marshaled by contractors who feed the labour market from distress areas. There are both push and pull factors. Some leave on their own to seek greener pastures.
True distress migrants have few or no assets other than their labour and move for their very survival. Occasionally only the men may go, but in many instances whole families migrate, including children who cannot be left behind without care. Labour contractors cunningly count children as part of the family work unit, as helping along. They are given small and then increasingly burdensome tasks on family piecework, without payment or recognition. This cruelly robs them of their childhood. Their work is harsh, often hazardous, and at the cost of their education, health and basic nutritional needs. Women and girl children suffer extreme deprivation and are subject to sexual abuse.
Distress seasonal migration is widely prevalent but the migrants' remains "invisible" as there is none to assume responsibility. The sending villages and local functionaries write off the migrants ignoring their entitlements, as they are not physically present for much of the time. On the other hand, recipient villages see these seasonal migrants as visitors who do not belong and will sooner or later return to their permanent abode. They live dreadful lives in temporary work camps put up by the contractor or "employer". Their lives are beyond the law, neglected by the State and society.
The migration cycle starts post-monsoon and continues until the next summer, spanning 6-8 months. It is spurred by dire need and made mandatory by debt bondage through cash advances, piece rates in defiance of labour laws and contractual obligations. These "missing citizens" have no rights, no entitlements, no security, only pain, suffering and endless indignity. In the process they lose all sense of identity. They are not enrolled in electoral lists, have no representative and are most often excluded from the Census count, dis-empowered. Nowhere people are "Non-People".
From Kalahandi and Bolangir in western Orissa to parts of Andhra Pradesh around Vizag and Hyderabad. Distances traversed extend over several hundred kilometers across linguistic and cultural divides. The contractors determine the destination and specific work site.
ORGANISATIONAL EFFORT IN MANAGING RESIDENTIAL CARE CENTERS.
The organisation has been involved in the management of 4 nos. of Residential Care Centers in Nuapada Block area. It was been decided by the DPEP Nuapada that the four centers will be better if it will be located nearby to PRATEEKSHA.
The centers located at villages enlisted below which shows detail of opening and closing along with the information of Caretaker and Cook respectively.
| | | | | |
| --- | --- | --- | --- | --- |
| | Name of the RCC . | Village | GP | Students enrolled |
| 1 | Bhanpur | Bhanpur | Kuliabandha | 58 |
| 2 | Bhotha | Bhotha | Kuliabandha | 36 |
| 3 | Kalyanpur | Kalyanpur | Amsena | 36 |
| 4 | Silda | Silda | Dumerpani | 40 |
Experience
A past experience working with Action Aid, Bhubaneshwar in the programme Samuhik Marudi Pratikar Udyam with the local Clubs and volunteers, PRATEEKSHA has gone through a deep study in Distress migration in Nuapada.
Problem Statement
It has seen since several years that at the time after Dusserah and Deepawali festival, the people from the rural area start migration to different places of India for livelihood. The migrants accompany their school going children with them to act as support for there labour work.
In this effort PRATEEKSHA has started collecting data of migrant family and organized meeting in several places of each village to convince the migrant family to leave back there school going children in their relative homes or in our R C Centers.
Being working among the villagers since last 12 years more and more families are well behaved with our organisation, which has proved to succeed to manage four centers with full strength. The parents trusted us and left their child with us.
How it organized
The caretaker cum instructors and cook has been selected and approved through the village Education Committee with the certify copy of actual students data duly signed by the local Headmaster which has been submitted in the District office. After approval these centers started functioning. The school MDM was given in school days as usual and RCC MDM were given other than school days and time with breakfast with pre fixed menu.
Responsibilities of the Remedial teacher cum Cook
The children are taught their regular habits by the caretaker in the morning after bed. Brushing teeth properly, cleaning clothes, washing hand with soaps, Sanitation habits, cutting nails, combing hair with applying oil, wear clean dress, removal of school dress after school time, timely prayer habits, to respect elders, big students to take care the little. Helping each other, indoor games like carom and ludo, and other local games, study after evening like special tuition.
We came to find that elder students take care of the younger students forgot the cast creed and family revenge while they remain united below one shelter. The family disputes are purely un aware by the teens. "Living like one family". The care taker has been well trained by our NGO for smooth management of MDM, maintaining of attendance, stock register, visitor register, information of stock statement periodically, procuring of good quality food materials from approved shops as they require, daily information of status, immediate response with us as well as the hospital for ill health of any students and to keep a strict vigil on each students who are inside and allowed to go outside to meet there grand parents. The children's are handed over back there children in good health.
Responsibilities of the Cook
The cooks are trained to maintain sanitary habits such as to clean hand and utensils properly with soap or detergent before cooking. They should be well dressed and maintain their clothes neat. To avoid premises dirty all the cooks are instructed to dug a pit to put the waste. Preferably the cooks are female who can accompany girl students.
Observation
It has seen from the village Silda of Dummerpani GP that the migration duration is less compared with other villages. The parents return back one month back asked their children back and were handed back with good condition. The parents of few villages do not trust completely on keeping their children apart from them. In this reason they often call through phone about the condition of their child.
Difficulties
The District administration has given final approval in the last week of December and itself is the greatest fault primarily done by the administration which in turns we faced lot of difficult to arrange to accommodate the same students which we have submitted in the proposal.
As far as concern, the work related to fooding which we feel a serious effort and been managed by our organisation smoothly in time with full quantity along with the salary of caretaker and cook in time. The entire amount except the Pre Stamped amount of Rs 75000.00 has been met from organizational funds which has kept for other activities and few has been organized through credit facilities.
All the centers are functioned in respective schools due to the convenience of sheltering and habituality with full co-operation of respective Headmaster except one in Bhotha village of Kuliabandha GP where in result we have to keep the children in local Anganwadi home.
N.C.L.P. SCHOOL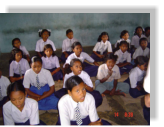 This year also our organization launched the same programme for prevention of child labour.The case of child labour is rampant in the state in general in order to assess the exact situation condition a baseline survey again in different villages. During the course of the investigation it was found that child labours are some how engaged in Agricultural field and construction work which there parents are forced to do so in spite of several approach.
PRATEEKSHA was managing the 2 NCLP school at Biromal and Pandripani villages providing the children free nutritious lunch. A stipend of Rs. 100/students deposited in joint account in name of the mother and child. The children are provided free uniform dresses, Availing and giving priority for the govt benefiting schemes for the parents. The parents have organized a committee to rule over the smooth functioning of the school.
Survey of child labour in 1997: As per the direction of the Hon'ble Supreme Court of India a child labour survey was conducted in the District of Nuapada during statewide survey in 1997. 1014 no. of child labour were identified in Hazardous occupation/process whereas 1126 no. of child labour were detected in Non-hazardous employment. Out of 1014 child labour detected from hazardous establishment 1000 have been admitted in 20 special schools established under NCLP, Nuapada.
Prohibition of Employment of child labour as Domestic Servant or Workers and in Dhabas, Hotel etc
In the context of Notification, dt.10/07/2006 of the Govt. of India prohibiting employment of child labour as domestic servants or workers and in Dhabas, hotels, tea shops, restaurants etc, a sensitization workshop for District level officers of Nuapada District was held on 19/11/2006 at Nuapada under the Chairmanship of Additional District Magistrate, Nuapada. No. of District level officers participated in the above meeting . As a follow up to the above meeting a District wide survey of child labour on above two employments were conducted from 1st Nov, 2006 to 15th Nov, 2006. 104 no.of child labours working prior to 10th Oct, 2006 were detected during survey. For the purpose of creating awareness a stall was opened at Mega Health Camp at Nuapada from 05/11/2006 to 07/11/2006. Through distribution of pampletes and leaflets, steps have been taken to creat public answers. All the Sarapanchs of the District have been requested by the Collector, Nuapada to pass resolution in Gram Panchayat meeting to eliminate child labour. Rubber stamps on prohibition of child labour have been supplied to offices functioning in Nuapada for use. Stickers have also been supplied to RTO, Nuapada to use in vehicles for creating awareness.
Information on NCLP
(Child Labour Welfare and Rehabilitation Society) Nuapada
1. Date of formation :16/09/1995 (Registered under Society Registration Act)
2. No.of school functioning : 20 ( 4 in each Block)
3. Places of schools
Nuapada : Amsena, Bindhanmundi, S.Panbdripani, Biromal
Komna : Sinapali, Jadamunda, Dhanrabhata, Thakurpali
Khariar : Rohenpadar, Baddohel, Bargaon, Dabri
Boden : Kusumkhunta, Putupada, Dhahana pali, Dabri
Sinapali : Hirapur, Jharbandh, G. Bargaon, Makhapadar
4. Sanctioned strength : 1000
5. Staff Pattern :
Educational Instructor - 2, Vocational Instructor - 1, Clerk - 1, Cook - 1
6. Vocational Education provided: 1. Tailoring , 2. Cycle Repairing. 3. Horticulture
7. Facilities provided :
(a) Mid-day meal (200 gm rice, 30 gm- Dal, Egg- Thrice in a week, Meat- one day in a week) Nutrition - Rs.5/- per child per day
(b) Stipend @Rs. 100/- per month per child
(c) Free health check-up twice in a month.
(d) Supply of free text book by DPEP
(e) Free supply of Educational & Vocational materials
(f) Supply of playing materials
(g) First-Aid medicines
8. No of child labour enrolled ( from 1996-97 to 2005-06) : 4876
9. No. of students mainstreamed ( from 1997 to 2006) 3386
10. No. of child labour family covered under Anti-poverty schemes : 676
11. No. of child labour students passed HSC examination from 2003 to 2005-06: 54
12. Child labour admitted at Sports Hostel, Puri: 2
13. Admission in Navadaya Vidyalaya : 1
14. Free Eye Test camp : 2 special Eye test camp were organized in 1999-2000 by DBCS
15. Insurance Policy : All the students are covered under Students Safety Insurance Policy implemented from 2002-03
16. SURVEY
1997: 1014- Hazardous, 1126- Non-hazardous
2005: 2834- Hazardous, 345- Semi Hazardous, 13796- Non-Hazardous