Bricks Making: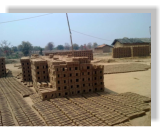 Kendu Leaf Plucking :
Kendu Leaf (KL )plays a vital role in the economic life of tribal and rural poor of Orissa. The Botanical name of Kendu leaf is Diospyros Melanoxylon, popularly called "Suna patra" or green gold of Orissa. The valuable leaves are used for wrapping Bidis, popular smoke especially among poor natives. Kendu leaf plucking provides employment and means of livelihood to millions of families spread across the state. The trade of KL provides employment opportunities for tribals, harijans (dalits) and rural landless people during summer when there is no agricultural work or opportunities of wage earnings.
The Self help Group members of 5 villages under Kuliabandha GP are engaged in KL plucking. Prateeksha has taken steps to engage these familes in Procurement of (NTFP) such as Kendu Leaf, Chaar seeds, Mohua Flower, Harada, Bahada etc from local people and storage in their godowns. For purchacing instanltly we arrange OSFDC/SGSY schemes to the concerned groups. After procurement/ Purchace the NTFP is dried in local godowns and sell them in Raipur or cities in additional price.
After agriculture this trade accounts for largest number of employment generation. Thus, NTFP collection is really a viable alternative for the families to maintain their livelihood in the lean agriculture season to supplement their income.Self Help Groups and encouraged to save part of their income from KL plucking so that they can avoid taking credit from money lenders at a high interest.
Pisciculture: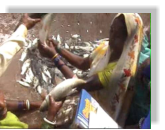 PRATEEKSHA has conducted Pisciculture Awareness Programme at Dhanora, Beheradihi and Bhusudi village where the women Self Help Group has been going to use private ponds for pisciculture under OSFDC and SGSY schemes such as to promote the fishing trade among rural women. The programme is to train the rural people with the scheme presently offered by the department to avail subsidy for excavation of pond fish seed collection etc. Many women Self Help Group have participated in the programme and proposed to adopt the production of fish farming in govt. pond by availing Tender. A fishing Experience is also been performed by the women members of Bhusudi village on the local pond covered under the scheme of OSFDC.
Piggery Rearing:
Pigs convert inedible feeds, forages, certain grain byproducts obtained from mills, meat by products, damaged feeds and garbage into valuable nutritious meat. Most of these feeds are either not edible or not very palatable to human beings Pig grows fast and is a prolific breeder, farrowing 10 to 12 piglets at a time. It is capable of producing two litters per year under optimal management conditions
•The carcass return is quite high ie. 60-80 percent of live body weight
•With a small investment on building and equipment, proper feeding and sound disease control programme the farmer can profitably utilize his time and labour in this subsidiary occupation
•The faeces of pigs is used as a manure to maintain soil fertility.
A Self Help Group Named Jai Maa Durga of Bisora village under Prateeksha supervision conducting piggery scheme. 15 BPL families are totally involved in this scheme
Broom Mat Making: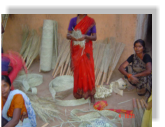 Pottery Craft :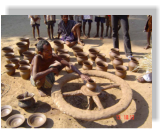 Goatery Rearing:
Based on the availabilities of fodder and people traditional skills and knowledge the beneficiary groups themselves recommended for the goat rearing program in the Tanwat,Silda, Bhajipala, Tipajhar, Bhanpur, Sabarpada and Kuliabandha villages. Below Poverty Line families were selected by the SGSY committee based on the criteria and distributed money for purchace of goats to each group. This activity helped the beneficiaries to enhance the livestock asset. Goat is known as 'Poor man's cow' in India and is a very important component in dry land farming system. Marginal or undulating lands unsuitable for other types of animals like cow or buffalo, goat is the best alternative. With very low investments goat rearing can be made in to a profitable venture for small and marginal farmers.
Reasons to start:
Low capital investment and quick return
Simple and small shed is enough
Profitable under stall fed condition.
High prolific rate of goats
Year around job
Meat is lean & has low fats and is liked by all people
Can be sold and encashed anytime
Bamboo Craft: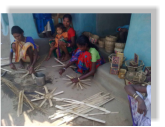 Poultry Farm:
Poultry has an crucial place in India as the eggs and chicken meat are important and rich sources of protein, vitamins and minerals. Poultry provides rich organic manure and is an important source of income and employment to millions of farmers and other persons engaged in allied activities in the poultry industry. Chicken is the most widely accepted meat in India. Unlike beef or pork , it does not have a religious taboo. The prices of chicken meat are lower than those of mutton or goat meat . Many Indian families , especially the educated people in urban areas , have begun to accept eggs as a regular supplemental part of their vegetarian diet. The forecast surveys indicate that as the present younger generation goes to the adulthood, the acceptability and demand for eggs and chicken meat in next 2-3 decades is likely to increase many-folds very rapidly.The women members of Dhamanpuri village has been offered this scheme through SGSY finance by UGBank Nuapada.