Mushroom: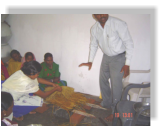 PRATEEKSHA has conducted a training programme of cultivation of Mushroom for the Urban WSHGs in Khariar Road by the resource persons from Krishi Vigyan Kendra, Nuapada. 15 WSHG members participated in the programme and distributed Mushroom seeds to the trainees. The programme was sucessfully conducted and few SHGs started production. jai Maa Laxmi SHG members of Gotma village depends upon the mushroom business througout the year.
Basic Orientation: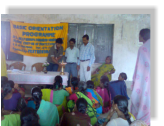 Prateeksha has been honored a SGSY Training Programme for 200 SHGs in Nuapada Block by theprogramme funded by DRDA with the recommendation of BDO Nuapada. The training has been conducted for all SHGs promoted by PRATEEKSHA and also included dormant and inactive SHGs from other SHPI too. The trained topics are Self Help Group movements. Internal lending Women empowerment, Record Keeping, General Issues Livelihood Practices through Local resources, Various schemes of Govt. SGSY Selection, Live stock management, Bank support & Schemes. Many Bank officials, Vetenary, ICDS and Block office staffs imparted as resource person in this programme which has taken 3 months to complete.
Midday Meal: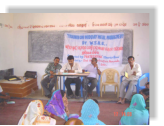 Midday meal Training programme of DSWO Nuapada through the BDO was organised for 8 GPS of Nuapada Block in each schools to train anganwadi workers, Concerned SHG involved in MDM Management, Panchyat Sarpanch, Ward Members and Members of the Village Education committees.One day training programme was organised in each school to train the cooking habits, Food nutritious value preservation, Waste disposal, Cleanliness of the students, Cooks, and the food supply team, Supply of sanitary items for cleanliness and attended grievance of each team in the MDM process which have been reported to Collector through the DSWO for betterment of MDM process.
S.H.G. Training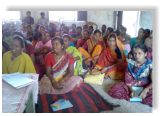 Over the years of the concept of Self-Help is gaining ground because it is a visible and effective mechanism to fight poverty migration. This is very effective especially in case of rural women who are invariably exploited by the village money-lenders. Thus SHG is an effective instrument to fight the menace of indebtedness of rural women. Keeping in mind the typical socio-economic need of the rural women the organisation in conducting regular training and capacity building programmes for the women, which is covered by about 52 women, Self Help Group. In this programme which takes the form of workshops in most of the cases women are taught the art of saving & credit, keeping accounts, keeping records etc. During the reporting period the PRATEEKSHA organised training-cum capacity building camps in the rural areas of Nuapada Block. Local Bank officials were invited to these training programmes to interact with Women SHG members and explained the provisions of the Banks in availing credit from the Bank.