Land Rights :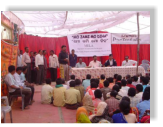 A programme on MO-JAMI-MO-DIHO, Purely a land rights programme organised fully by PRATEEKSHA by the direction of the Thasildar, Nuapada for attending of grievance and issuing of Pattas for the landless poors of Nuapada Block on 30.08.08 in the front of Thasil office Nuapada. Sub collector Nuapada addressed the people about the law and the Thasildar with their staffs collected application about 150 landless poors for further approval and on ward action.
Child Labour Rally: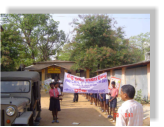 Gender Justice: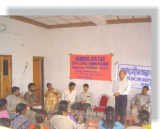 Legal-judicial system will be made more responsive and gender sensitive to women's needs, especially in cases of domestic violence and personal assault. New laws will be enacted and existing laws reviewed to ensure that justice is quick and the punishment meted out to the culprits is commensurate with the severity of the offence. At the initiative of and with the full participation of all stakeholders including community and religious leaders, the Policy would aim to encourage changes in personal laws such as those related to marriage, divorce, maintenance and guardianship so as to eliminate discrimination against women. The evolution of property rights in a patriarchal system has contributed to the subordinate status of women. The Policy would aim to encourage changes in laws relating to ownership of property and inheritance by evolving consensus in order to make them gender just.
Legal Rights: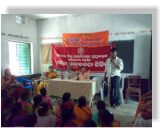 A programme on Gender Justice was organized in negipali Village under Beltukri GP of Nuapada with the assistance of Judiciary Department, Nuapada. CJM, SDJM and Sub Judge with CDPO staffs participated in this programme. As PRATEEKSHA is emphasizing the upliftment of SC,ST & OBC in the society. It extends its legal and support to these communities who are the most suppressed group of society. The Legal Literacy Camps like ensuring Dowry issues, Tourchers, violation of human rights, minimum wage, land entitlement, prohibition of Child laborers and other allied legal issues has been organized and the direct benefit goes to the people to concerned court via Legal Aid Cell.
In order to change attitudes about gender roles and relations in a male-dominated society, we need to build a broad consensus that includes both men and women, to promote a changed mindset through education as well as legal and advocacy programmes. The goal of our Gender Justice and Diversity work is to mainstream gender equality and diversity within PRATEEKSHA and improve gender relations and build gender sensitivity at home and in places of learning. We are proactive in national and international policy advocacy.
Trainings with community peoples aim to increase gender awareness, encourage participation and develop human rights awareness amongst union level leaders. Increasing awareness amongst the elite is a first step to reducing corruption and structural mistreatment of women within the government and communities. More than 150 community peoples attended this training programme.
The education of community peoples ensures that the voices of these women are heard and supported at higher levels in the government. By educating people at all levels, understanding of the legal system becomes common knowledge and translates into sustainable change.
Labour Demands: