Y.D.C. - NYK: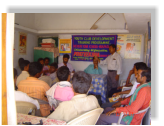 We believe culture programme as one of the powerful instrument to feed inputs in the mind of people. Especially in making people aware of their own situations. Problems and to take common decision cultural programmes play a key role.
Another advantage of organising cultural programme in rural areas is that most of the people due to their economical insufficiency can not afford more money to go to towns/ cities to watch movies for which the people essentially from poor community shows more response towards cultural programmes. In order to expose the prevailing situation and exploitation made by the richer section,
In this regard Nehru Yuva Kendra of Nuapada has supported us financially to conduct a rural sports programme to uplift the sports activities of the rural youths. For this our organisation has organised a foot ball and volleyball tournament in Kuliabandha village involving new comers. The athletic events, competitions and quiz items have been organised along with and prizes have been distributed to the winner team. It has been observed that these whose have created tremendous influence among the people to go forward for a mass protection of exploitation made over them.
Youth Study Tour: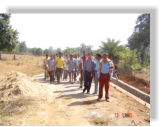 School Sports: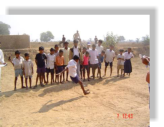 Rural Sports: