Women Convention: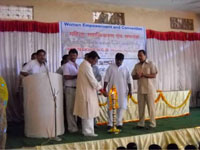 It is very important for bringing women in political mainstream and involve them in decision-making process. However, in reality, women are considered subordinate and used as mere puppets of political symbolic representation. The scenario will only change when the society will realize about an equal importance of men & women in life. The orientation of all sectors not only the men but also female have to be come out of the traditional frame of the social, cultural structure. Till date, thousands of women have entered in the PRI sector to be a part of village development & decision making process. They have come across lots of basic issues like corruption, delay in administration, negative mindset of bureaucracy etc. They have gained kind support from SHG women & their family to some extent Keeping in view these emerging issues and processes, PRATEEKSHA in the thirteenth year of its existence has organized its second Women Convention in Jain Bhawan, Khariar Road with a record of 700 participants from Women Self Help Groups of Nuapada. This Convention has focused towards strengthening and building cross section support for women in governance. This was also different in terms women from different sections of the society with Sarpanch, Social activists, volunteers of local NGOs etc participated as participants.
The Convention would determine the future strategies of PRATEEKSHA on the following lines.
•To strengthen the process of policy advocacy for addressing the issues of women representatives in PRIs.
•Effective participation of networks for strengthening alliance building process •Sharpen & develop political identity.
•To initiate facilitation of value base politics & intervention in social change process through a larger women's movement
Women Convention started with the Mashal lighting by Hon`ble MP Sri Bhakta Charan Das and followed by the guest welcome. This was the beginning the one-day State Convention program at Khariar Road.
Mr. Rambilash Mongraj, the BDO Nuapada, gave the introductory speech. Then MP sri Bhakta Charan Das gave the most appreciated speech among the guests followed by Branch Manager Mr Pradhani, He clearly said that PRATEEKSHA to take various human welfare project specially for women honestly. He clearly pointed out the benefit of the decentralization, attacked the core issues in the Panchayati Raj Institution like non-implementation of the eleventh schedule, lack of funds, corruption and unwanted administrative structures. Almost all the presentations were reflective and appreciated by people a lot.
It is important to note that the entire historical background of the women's movement is a mixture of both male & female perceptions. Many a male social reformers have tried their best to aware the society on the evil of patriarchy & its reverse effect on women from all castes & classes. This valuable capital of our own should be used by us by honoring those male personalities who are actually on ground want to share all types of rights with their female companions. The summing-up session was the best summary program. All women leaders prepared a special ending session where all the women were made to stand up along with a "Sum up Song" and a Cultural Dance with a step ahead, mixed with the song. This was the highest energy session, converted into a collective synergy or the state Convention. The Convention was able to attract alliance not only from political front but also from Government and non-government sector.
Goal and Objectives
The goal of this Policy is to bring about the advancement, development and empowerment of women. The Policy will be widely disseminated so as to encourage active participation of all stakeholders for achieving its goals. Specifically, the objectives of this Policy include
•Creating an environment through positive economic and social policies for full development of women to enable them to realize their full potential
•The de-jure and de-facto enjoyment of all human rights and fundamental freedom by women on equal basis with men in all spheres - political, economic, social, cultural and civil
•Equal access to participation and decision making of women in social, political and economic life of the nation
•Equal access to women to health care, quality education at all levels, career and vocational guidance, employment, equal remuneration, occupational health and safety, social security and public office etc.
•Strengthening legal systems aimed at elimination of all forms of discrimination against women
•Changing societal attitudes and community practices by active participation and involvement of both men and women.
•Mainstreaming a gender perspective in the development process.
•Elimination of discrimination and all forms of violence against women and the girl child; and
•Building and strengthening partnerships with civil society, particularly women's organizations
NABARD Training Programme :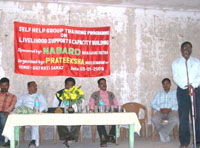 Increasing concern about food shortages, the global trend in rising food prices and adverse effect of climate change on food security promoted PRATEEKSHA to strengthen its efforts in the agriculture sector. Our focus now is on developing new agricultural technologies Livelihood practices and evolving innovative financial services, systems of production and marketing.
PRATEEKSHA's Agriculture programme fundd by NABARD, Bhawanipatna has twin objectives. One is to provide support to our numerous poverty alleviation interventions by assisting the marginal, homestead-based, agricultural activities of the poor. These activities mostly consist of small scale operations in cultivating fruits and vegetables and raising poultry and livestock. The other is to appear overtly contrasting, are inextricable tied by their common mission – to increase food security for the poor.
The NABARD programmes focus on research and development is a direct response to the problems encountered by poor farmers. Over two decades of working closely with poor farmers helped us to understand that quality seeds and their steady supply are critical for agricultural livelihoods. Today our Agricultural Research and Development Centres and nurseries produce millions of crop and vegetable seeds and fruit sapling that are used by poor households to strengthen food security, improve nutrition and earn income.
As per direction and advice of AGB, NABARD, PRATEEKSHA organized this programme in Gujarati Bhawan in which several line department officials such as VAS, Horticulturist, Agrictlturist, DIC GB, Bankers and Pisciculture experts participated as resource person to address the rural people.
Protest for Rights :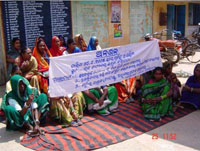 Women's perspectives will be included in designing and implementing macro-economic and social policies by institutionalizing their participation in such processes. Their contribution to socio-economic development as producers and workers will be recognized in the formal and informal sectors (including home based workers) and appropriate policies relating to employment and to her working conditions will be drawn up. Such measures could include:
PRATEEKSHA has presented new challenges for the realization of the goal of women's equality, Women members of Amlidadar village under Budhipali GP struggled for getting contract construction work while the work order was forcibly issued in favour of a local contractor of the same village for this a group of women protest in rally and stayed hunger strike two days infront o Block Development Office against protesting corrupt officials.
The gender impact of which has not been systematically evaluated fully. However, from the micro-level studies that were commissioned by the Department of women & child development, it is evident that there is a need for re-framing policies for access to employment and quality of employment. Benefits of the growing global economy have been unevenly distributed leading to wider economic disparities, the feminization of poverty, increased gender inequality through often deteriorating working conditions and unsafe working environment especially in the informal economy and rural areas. Strategies will be designed to enhance the capacity of women and empower them to meet the genitive social and economic impacts, which may flow from the globalization process.